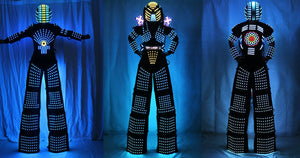 TEM-LASER
TEMLASER is the world's leading supplier of LED robot Suit, Laser costumes, Laser gloves, Luminous masks. . . We have more than 10 years of experience in this field. We provide Competitive, safety, stability and reliable product solutions and services for our customers in the field of performing and lighting, Continue to create value and opportunities for our customers.
COMPANY INTRODUCTION
High quality products are the bridge to the world.
Our Team
Young team- imagination and creativity.
High education-professional service
Safe Packaging, Fast Delivery
We have a 500㎡ warehouse. All kinds of hot-selling products are in stock all year round. We can arrange test packaging and transportation within 1-2 days.Our products serve the world. We have good cooperation with DHL, UPS, FedEx.